Story Release
FOR IMMEDIATE RELEASE
SR# 032207-01
March 22, 2007
3rd BCT honors fallen comrade
By Spc. Ryan Stroud
3rd Brigade Combat Team, 1st Cavalry Division Public Affairs
BAQUBAH, Iraq (March 20, 2007) -- "It wasn't a coincidence that he was on that recovery team that day. 'Recovery' is a tight group of Soldiers, whose sole mission is to recover our fellow warriors. The day Spc. Rosema was killed, he had asked his NCO if he could go out on that mission. He was not afraid of danger; he was always there to help another Soldier out," said Capt. Alexander Babington, about the death of a Soldier in his unit, Spc. Adam Rosema.
Rosema died from wounds received in combat, March 14. Rosema and other Soldiers were on their way to recover a vehicle which was previously hit by an improvised explosive device. On their way to the scene, Rosema's vehicle was also hit, taking his life.
Rosema is survived by his parents, Lauren <Laura> Stephens and John Rosema.
"He always had a kind word; we never heard him complain about anything," said Babington, commander of Company E, 215th Brigade Support Battalion, 3rd Brigade Combat Team, 1st Cavalry Division.
Soldiers stationed at Forward Operating Base Warhorse, in support of Operation Iraqi Freedom 06-08, piled into Salie Gym to pay their last respects to their fallen warrior. The invocation and memorial message was given by Chaplain (Capt.) Eric Bey, while others spoke of their fondest memories of their departed comrade.
"I have great memories of Spc. Rosema. He was one of my 'Gazelles,'" Babington said. "My Gazelles are Soldiers who conduct [physical training] with me in the morning. It is full of an elite group of about ten individuals that ran with the command.
"Soldiers would switch to play football," said Babington. "Not Rosema -- he was the type of Soldier to jump sides for a harder day of PT."
"He will always hold a special place in my heart," he said.
"There was nothing complicated about him, nothing hidden," said Spc. Jason Dawson, Co. E, 215th BSB. "He was honest; he was a good man. He worked hard, did anything he could to help those around him. There wasn't a single person he didn't like.
"He loved his music and loved anything that went fast," Dawson added. "Poison, Def Leopard, Motley Crue; the list of his favorite bands was long …but it wouldn't take long to talk to him about his music before he would tell you about his favorite band, Van Halen. He owned a replica of Eddie Van Halen's guitar that he played all the time back in the barracks."
"Everyday at 11:30, he would walk to the [dining facility], grab a to-go plate, and walk back to the motor pool to eat chow so he could listen to his tunes," he said. "Like clockwork, he would sit in the same chair [to eat chow] and jam out, occasionally play air guitar if it was a really good song. You could tell, at this moment, he was happy.
"His huge smile, and loud and goofy laugh let everybody know [he was happy]," said Dawson.
As the ceremony drew to a close, many Soldiers took the chance to render one last salute to their friend.
"I want to cordially thank him for his contributions he gave his units, his friends, the Nation and the joy that he brought to his family," said Lt. Col. Ronald Kirklin, commander of 215th BSB. "I want to thank his parents…for raising such a fine young man and Soldier. Our thoughts and prayers are with you as you grieve the loss of your son."
"Adam Rosema was a simple man," Dawson said. "He loved his family and his friends. He was the kind of person who will be sorely missed; the kind you don't realize how much he will be missed until you suddenly realize he's not there.
"He was a good Soldier, he was a good man, and I am proud to say that he was my friend," he concluded.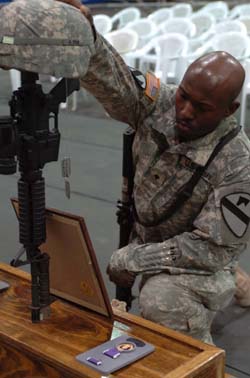 A Soldier from the 3rd Brigade Combat Team, 1st Cavalry Division kneels to pay his final respects to Spc. Adam Rosema, Company E, 215th Brigade Support Battalion, during a memorial ceremony at Forward Operating Base Warhorse, March 20. (U.S. Army photo by Sgt. Serena Hayden, 3rd Brigade Combat Team, 1st Cavalry Division Public Affairs)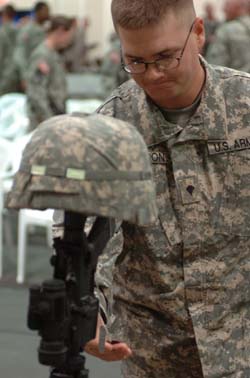 A fellow Soldier grasps the dog tags of his fallen comrade, Spc. Adam Rosema, Company E, 215th Brigade Support Battalion, 3rd Brigade Combat Team, 1st Cavalry Division, following the memorial ceremony at Forward Operating Base Warhorse, March 20. (U.S. Army photo by Sgt. Serena Hayden, 3rd Brigade Combat Team, 1st Cavalry Division Public Affairs)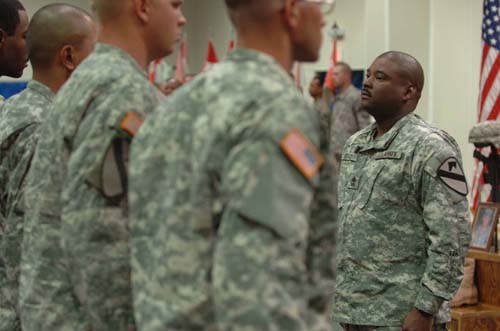 First Sgt. Milton Issac conducts the ceremonial roll call during the memorial service for one of his fallen Soldiers, Spc. Adam Rosema, Company E, 215th Brigade Support Battalion, 3rd Brigade Combat Team, 1st Cavalry Division. Rosema was honored by Soldiers from the 'Grey Wolf' Brigade during a ceremony at Forward Operating Base Warhorse, March 20. (U.S. Army photo by Sgt. Serena Hayden, 3rd Brigade Combat Team, 1st Cavalry Division Public Affairs)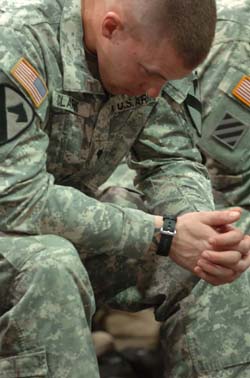 A Soldier from the 3rd Brigade Combat Team, 1st Cavalry Division, reflects on the life of his fallen comrade, Spc. Adam Rosema, Company E, 215th Brigade Support Battalion, 3rd Brigade Combat Team, 1st Cavalry Division, during a memorial service at Forward Operating Base Warhorse, March 20. (U.S. Army photo by Sgt. Serena Hayden, 3rd Brigade Combat Team, 1st Cavalry Division Public Affairs)
Spc. Jason Dawson, Company E, 215th Brigade Support Battalion, 3rd Brigade Combat Team, 1st Cavalry Division, speaks of his friend and fallen comrade, Spc. Adam Rosema, also of Co. E, 215 BSB, during a memorial ceremony at Forward Operating Base Warhorse, March 20. (U.S. Army photo by Sgt. Serena Hayden, 3rd Brigade Combat Team, 1st Cavalry Division Public Affairs)
A Soldier from Company E, 215th Brigade Support Battalion, 3rd Brigade Combat Team, 1st Cavalry Division, salutes his fallen comrade, Spc. Adam Rosema, also of Co. E, 215th BSB, during a memorial ceremony at Forward Operating Base Warhorse, March 20. (U.S. Army photo by Sgt. Serena Hayden, 3rd Brigade Combat Team, 1st Cavalry Division Public Affairs)